Powered by Neurocosmetics
Regular price

Sale price

$25.00
Brightening | Invigorating | Nourishing
Key Benefits:

Deeply hydrates and nourishes
Gently exfoliates & brightens
Antioxidant benefits
Releases stress
pH balanced
Take off the grime with our body wash made with purposefully sourced biocompatible ingredients—we only add what is necessary to gently cleanse without disrupting the balance of your natural skin biome. This deeply nourishing and hydrating formula uses salicylic acid to exfoliate, smoothen, and brighten your skin while our luxuriant, plant-powered blend of lemon balm and holy basil invigorates your skin-brain connection, elevating you inside and out.
Focus Ingredients

Lemon balm (Melissa officinalis): mainly for its anti-inflammatory properties and skin lightening along with effective nourishment. Plant powered.

Holy basil (Ocimum tenuiflorum): works as anti inflammatory as well as soothing. Plant powered.

Salicylic acid: helps to exfoliate the skin as well as clears clogged pores and provides anti-inflammatory benefits.

D-Panthenol: helps to provide hydration to the body.

All Ingredients

Anhydrous Betaine, AVT Lemon Balm Extract(5% Solution), CAPB, Coscare D-Panthenol, Cosphaderm Propanediol Natural, Cosphaderm X-34, Cosphagard POL, DM Water, Glycerin, Holy Basil Extract(5% Solution), Metaupon KMT 30 MB, Salicylic Acid, Serene care, Sodium Gluconate, Sodium Lauryl Sarcosinate, Sorbitol, Sucranov SF, Tapioca Starch.

We DON'T include (ever):

Sulphates, Parabens, Toxic Chemicals (Hydroquinone, Benzoyl Peroxide, Phthalates, Triclosan, Formaldehyde, Benzophenone, MIT, PHMB, D5, MCT, Mineral oil)
How to Use

Apply Justhuman Revitalizing Body Wash on dampened skin and massage into a cleansing lather. Rinse and glow.
We've got your back

Secured checkouts - Your Security is Our Priority - Checkout with Confidence

Quality you can trust - We guarantee you'll love our product. If you don't, we'll make it right, faster than you can say 'Justhuman'!"

Customer support on your terms - Get in touch with us anytime!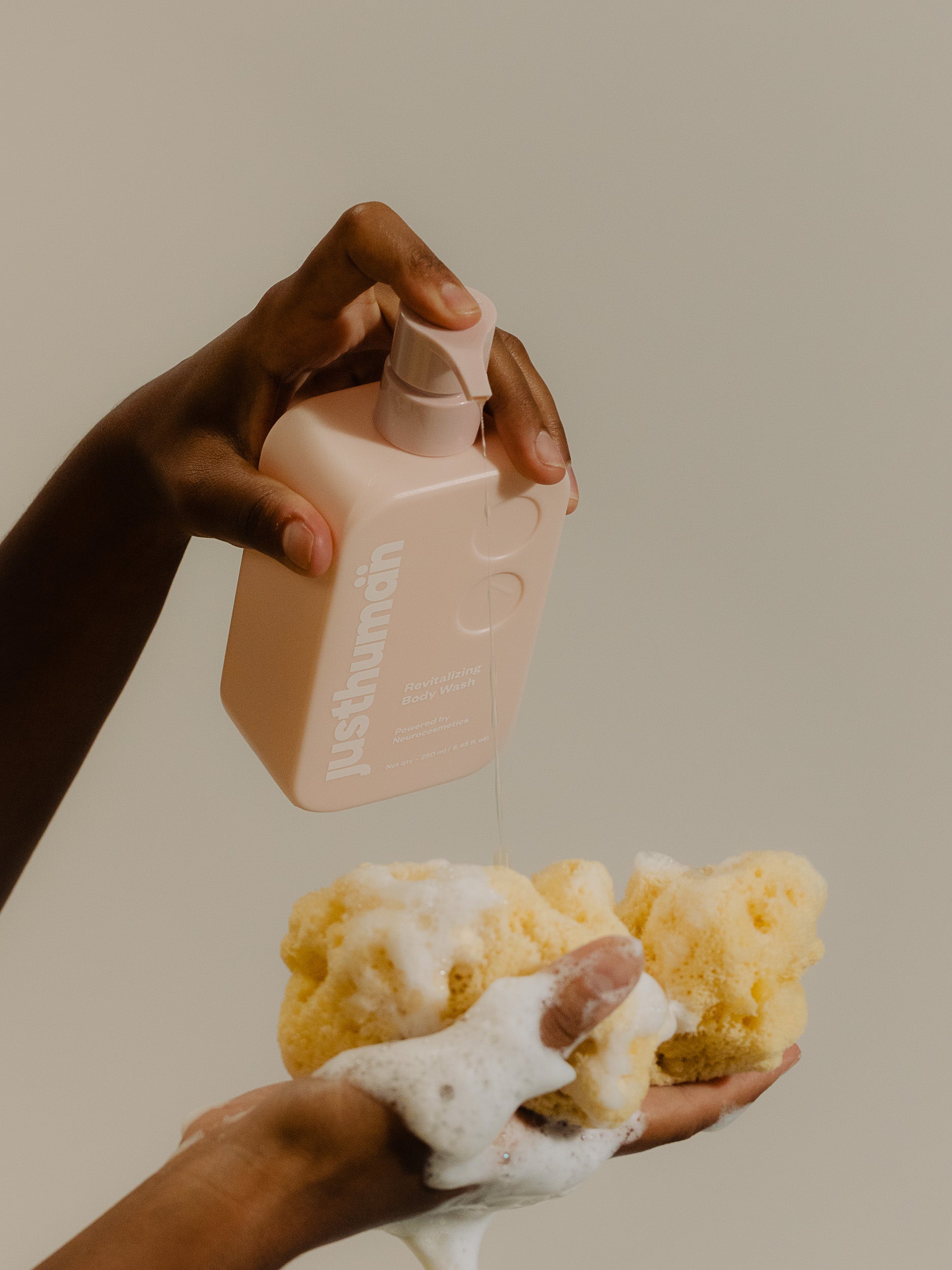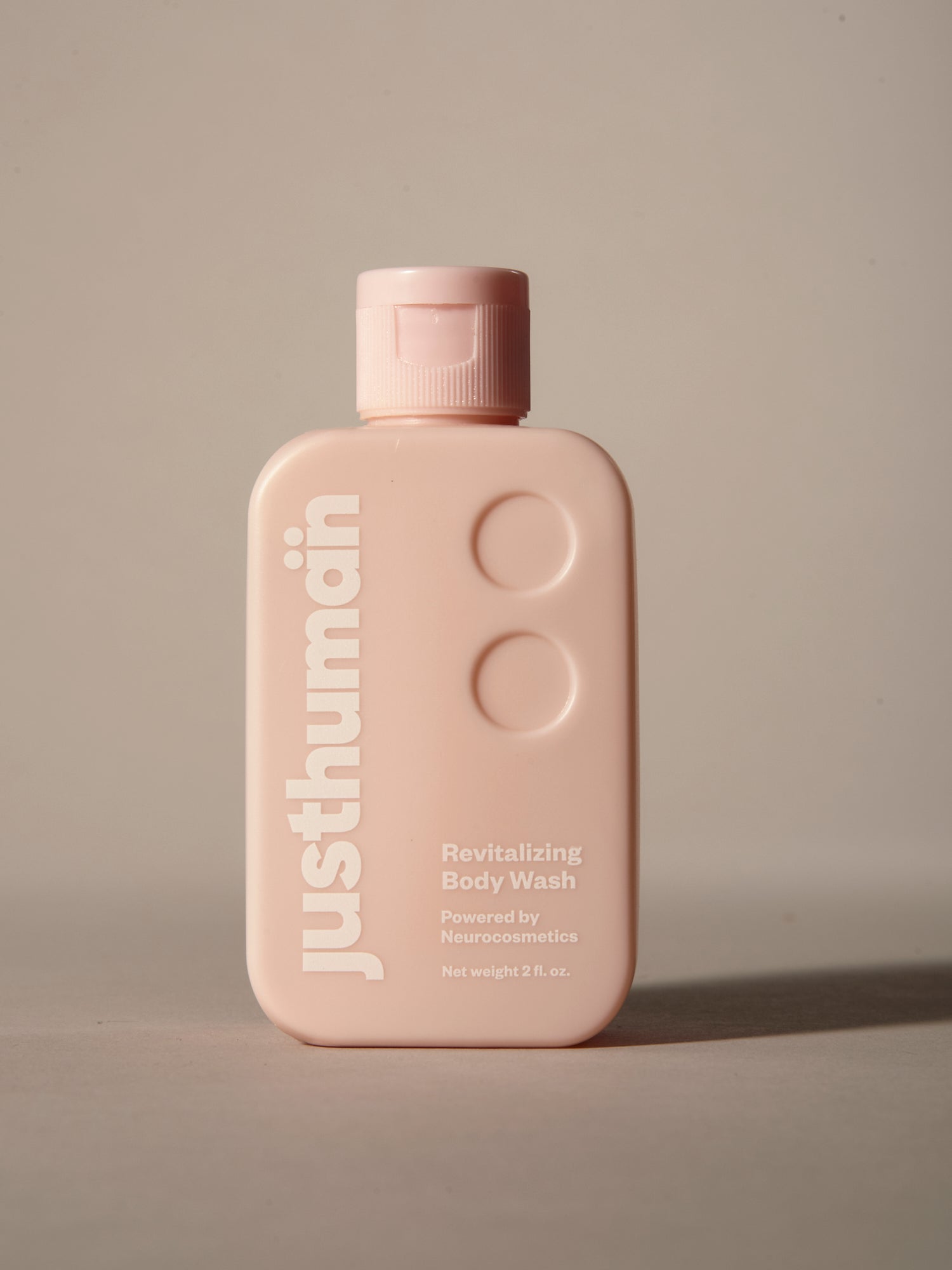 The Justhuman Way
Clean Biocompatible ingredients

The fusion of  natural and synthetic ingredients, which just work in symphony, to give the elevation you desire.

Fast Beauty

Infused with rich peptides and biotics, enabling effective skin brain communication and speeding up the process of looking good everyday

Toxins Free

We don't compromise. Ingredients that are not good for you, are simply not good for Justhuman.

Cruelty Free

We love animals and we believe they shouldnt pay the price for our vanity.